Friends of Larkfields Junior School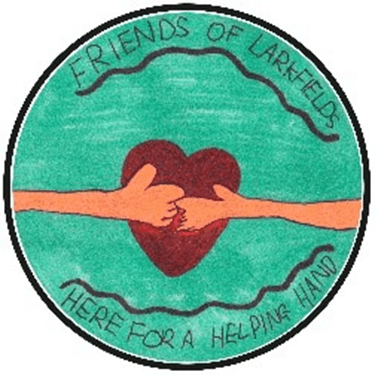 What we do:
The Friends of Larkfields is a group of parents / carers that was formed to provide facilities which support the school and advance the education of the pupils. We work closely with school to organize events that not only raise funds, but provide a fun, social element for the school community.
The money raised helps the school pay for the extras that aren't covered by its own budget. Through our fundraising we have been able to provide school with a new library, playground equipment, books, musical instruments, stage lighting and a PA system and to contribute towards a 'Trim Trail', school trips for all year groups and educational assemblies and visits.
The rules that govern how the Friends of Larkfields is run can be found in this document:

Who we are:
Chair – Caroline Murtagh
Vice-Chair - Ainnee Naeem
Treasurer – Liz Pickard
Secretary - Rachel Doar
Members - Laura Coucill & Gail Rowark.
Here's how can

you

join us:
We are always looking for more parents to plan and help at the events, so if you would like to get involved, either as part of the committee or as a helper, please contact us. Whatever time you can spare will be greatly appreciated.
You can contact us by E-mail at friendsoflarkfields@hotmail.co.uk or speak to one of the committee
Fundraising
Schemes that won't cost you anything extra...
The Friends of Larkfields Junior School have signed up to following schemes:
The Giving Machine
You can generate donations for Larkfields Junior School when you shop online. There are over 430 online shops, including Amazon, Next, Sainsburys, John Lewis, Marks & Spencer, Tesco, B&Q and lots more. Full details are on the website.
All you need to do is click the link http://www.thegivingmachine.co.uk/beneficiary.php?ben_id=59007
Click Join & Support, complete your details and you're ready to shop!
Each time you shop online, go to www.thegivingmachine.co.uk, log in, select the shop you want and when you order you'll be donating money to school – without it costing you anything extra.
Anyone can use The Giving Machine and generate donations for our school, so please get your family and friends to join in too when they do their online shopping.
Company Matched Giving
Many companies offer Company Matched Giving as a form of fundraising for school PTA's.
For example, employees donate their time to run a stall at a fundraising event and the company will match whatever that employee raises on that stall. If anybody works for a company that offers this scheme and are willing to donate their time at one of our events, please contact us.
Please note: we no longer recycle ink and toner cartridges or mobile phones.